I was out looking for a bedspread specifically for the guest room. I have a somewhat of a vision of what I want in that room, now it is just a matter of finding it. I'm thinking solid color light fabric with texture-whites or grays or beiges. Then I want to layer it with lots of pillows and a throw to bring in color. Here are a few examples of what I was thinking.
(Link)
I've been keeping my eye out for something that would fit this style in almost every store I go to. Sometimes I think setting my mind on something and then trying to find it is harder than just shopping until something strikes me. I don't feel like I'm being too picky; I'm open to different colors after all.
I rarely shop at Dillard's because they are just so expensive most of the time, but I thought maybe I could find something on sale. Right off the bat, they had a clearance table and I immediately gravitated toward it. But no guest room bedspread appeared.
I also need a new bedspread for the master bedroom as well, but was not ready to focus on that room just yet. I didn't have a particular look in mind. I have very traditional furniture that I have been contemplating trying to sell so I wasn't sure that I wanted to put my effort in that room until I decide what I want to do with the furniture. But there was a bedspread on the clearance table that did catch my eye. I looked at it, and put it down and then walked around the table and look at it again. It is dark brown with a lot of activity going on in the print-very colorful. We abuse our bedding; we sit in bed and drink coffee; we have two teen boys that will come and plop down on it with their shoes on; and of course Charlie, our standard poodle, thinks its his bed as well. I knew a light color would not be practical in there. This dark brown one just might work. And I LOVE IT! The question was whether or not it was going to be too "foo-foo" for hubby.
While I was contemplating the bedspread, the sales lady came up to me and said of all the bedspreads in the store, it was her favorite. (Of course, that is what sales people are supposed to say!) I asked if there were any additional pillow shams on sale as well. While she was checking I looked around some more, but couldn't find anything I liked as well. For 50% off, I felt it was worth it, and how often do you find something on sale that you absolutely love?
I went to check out and everything was ringing up at full price. There was no way I could justify paying full price for it, but the sales lady said she would go ahead and give it to me at 50% off since it had been on the clearance table. (I like that sales lady!) I excitedly got home and laid it out over the bed. When hubby got home, he said it wasn't bad and he liked how thick it was. YEAH!! I don't have to return it.
I soon realized that I needed a third Euro Sham. (The picture on the package only showed two, but it was a queen bed and ours is a king.) I went back to Dillard's a few days later and couldn't find my sales lady. The new clerk was a little hesitant to give me the additional sham for 50% off, but sweet talking seemed to do the trick. Now I'm excited to get paint on the walls and carpet on the floors.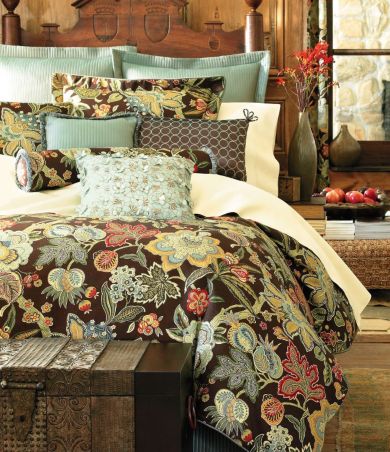 I can pull out so many different colors from this bedspread, the hard part is going to be to limit myself to just a couple. I just love it when I have these unexpected finds. What color would you paint the walls? I'd love to hear your opinions.